TO VIEW PRICING CLICK ON BOOK AN APPOINTMENT
Our professionally trained estheticians, customizable facial treatments and products containing essential oils and ingredients of the purest form come together in providing our clients with all treatments include massage techniques to stimulate circulation, minimize the aging process and de-stress. We are specialized in Dr. Schrammek green peel treatment from fresh-up (light) Energy (medium) and Classic (deep) and partnering with Ronda Allison Skin Care line.
Call Us:
(832) 973-1156
(713) 492-0801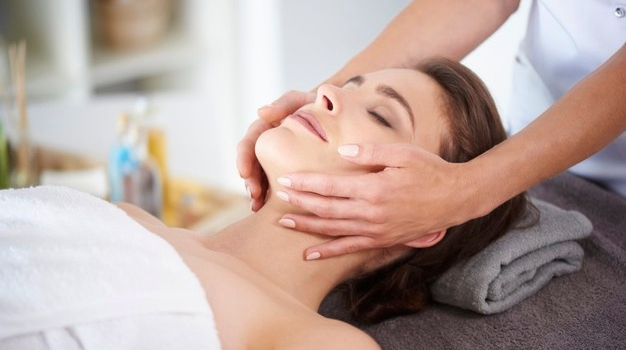 Perk me up facial
30 minutes Lunch time facial
---
Our on the go spa facial with maximum results in minimum time. Cleansing, toning & exfoliation with light massage specially chosen to treat your skin. Your face will look refreshed & healthier while your mind will feel rested and pampered. For all ages & skin types.
Hibiscus Bright & Glow Facial
60 minutes
---
Come on let's face it, Glowing skin is a craving that all we women suffer from! A healthy skin is the only sure lasting way to have a bright and glowing skin. Using all the right amount of Vitamin A, E & C, your face will say Oh' la la!!!
Fountain of Youth Facial
Teen 60 minutes
---
Teen facials are recommended for clients prone to oily or problem skin. Take advantage of the benefits deep pore cleansing facial extractions to remove-pore clogging sebum and a variation of a healing mask along high frequency assists in reducing the inflammation on contact.
Inflammation Diffusion Facial
60 minutes
---
With the Clarifying Enzyme Acne facial, you are able to rapidly reduce blemishes and breakout to unveil radiant skin. Enzyme facial is a blend of natural ingredients for exfoliating your skin naturally to work externally from clearing dead cells on top of your skin to healing your skin internally leading to a fresher and more vibrant look. Enzyme facials are more beneficial in treating skin with sun damage, dullness, blackheads, wrinkles and acne scars.
Red Carpet Collagen Anti-Aging Facial
115 minutes
---
A treatment designed to restore the depleted collagen in your face and rejuvenate your skin. This treatment includes a peel that suits your skin followed by a collagen mask and oxygen mist. This is exceptional hydrating treatment for mature skin, aging and dehydrated skin type.
Back Facial
55 minutes
---
Our backs, in particular, can be an area of skin distress like acne, dryness and irritation. We need to give our back the same attention we give our face and neck. Our 55 min back facial includes a deep cleansing with steam, exfoliation, extractions, a hydrating, detoxifying mask, a back massage, hot towels and a moisturizer with sunscreen.
Green Peel Facial Fresh Up
60 minutes
---
Green Peel Facial Fresh Up with no peeling effect the skin is stimulated and refreshed with natural herbs which will vitalizes the cells and your skin glows with a new freshness. This facial is anti-deal problem solver for tired skin without freshness and serves as an effective prevention helper against premature aging and loss of elasticity.
Green Peel Classic
115 minutes
---
Green Peel Classic facial, this herbal peeling facial mixture intensively massaged into the skin which make your blood circulation increased, results are outstanding Special herbal facial massage techniques bring blood flow to the skin and promotes collagen and can be performed overactive acne.
Hydra Facial
60 minutes
---
Hydra Skin facial combines a four-step water-based facial by cleansing, exfoliating, extracting and hydrating. This facial treatment will be finished with a light spray of antioxidant or vitamin serums which gives you a younger fresh and glow face.
Call Us:
(832) 973-1156
(713) 492-0801